Derbyshire Constabulary badged neck holder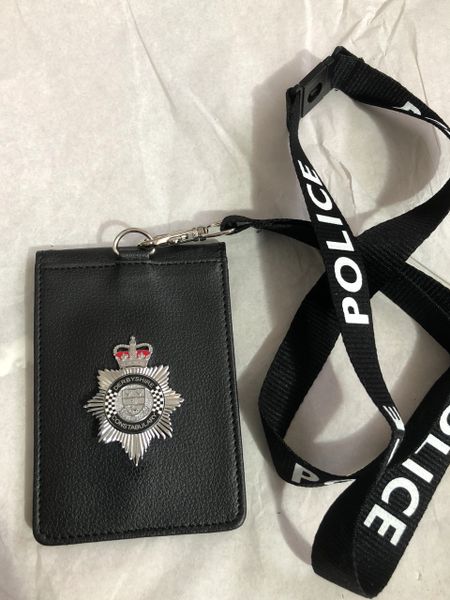 Derbyshire Constabulary badged neck holder
A useful Neck ID holder with attached Derbyshire Constabulary crest.
 To the front is affixed a superbly detailed nickel and enamel Derbyshire Constabulary crest. Inside are two windowed card compartments. To the rear is a further non-windowed compartment for additional card storage or that emergency Tenner.
This card holder is manufactured in the U.K., using only genuine, thick , durable British leather , not the flimsy PVC used in holders shown on many other online stores.
The holder can be securely closed by way of a strong Velcro type clasp, rather than a magnetic one, to prevent accidental damage to electronic imprinting on your cards.
The product is complete with printed lanyard, with integral safety clasp, which permits it to be safely worn from the neck. Ideal for CID, those engaged on plain clothes duties or Civilian Staff.
**Please note** This item can only be supplied to serving Officers (Regulars, Specials and PCSOs) and Civilian Staff of Derbyshire Constabulary. A verifiable collar number or Staff ID number is required upon ordering.
Free postage to UK addresses.